Midwest Facilitators Network
(Learning Index Page / Opportunity Index Page / MFN Home Page)
LEGO Serious Play: Jody Lentz
jody.lentz@seriousplay.com - (615)-242-8613
http://www.seriousplay.com
LEGO Serious Play Workshop
Location
Chicago Children's Museum at Navy Pier
700 E Grand Ave
Chicago, IL 60611
(312)-464-7700
http://www.chichildrensmuseum.org
Thursday, February 27th
2:00pm - 5:00pm
There are five (5) places reserved for MFN members on a first come-first serve basis
There is no charge for this workshop
Hello MFN Colleagues:
This is your invitation to experience LEGO SERIOUS PLAY, a powerful new tool to enhance your clients' business performance by increasing the insight,
confidence and commitment level for managers and employees at any level in the organization.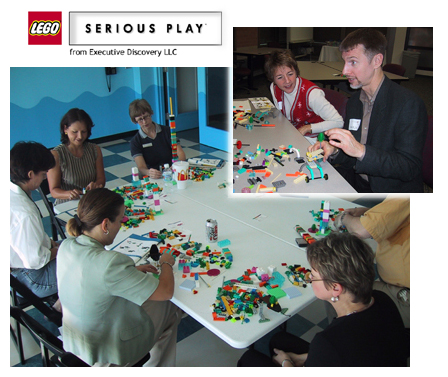 If your firm's consulting practice is looking for more effective and efficient tools for strategic and organizational development, LEGO SERIOUS PLAY's Real
Time Strategy and Real Time Identity programs provide powerful solutions for:
- Strategic Planning
- Branding Strategy
- Project Management
- Product Development
- Kicking Off a New or Re-Organized Team
- Energizing Existing Teams…
… and many other applications.


The only way really to learn about an experiential tool is to experience it. I will be in Chicago on Thursday, Feb. 27, and I hope you can join me then. This
hands-on workshop is an introduction to our methodology and business model. It is designed for established and experienced consultancies' facilitators and
consultants; briefly, we will cover:
- the concepts and applications of LEGO SERIOUS PLAY
- the business opportunities for consultancies

If this concept and business opportunity interests you, please contact me at jody.lentz@seriousplay.com or at the phone numbers below for further
information. To learn more about LEGO SERIOUS PLAY, please visit www.seriousplay.com.
+ + + + + + + + + + + + + + + + + + + + + + + + +
Jody Lentz
Director of Outreach
Executive Discovery LLC
LEGO SERIOUS PLAY
jody.lentz@seriousplay.com
(615)-242-8613
(615)-397-8613
http://www.seriousplay.com


"You can learn more about a person in an hour of play than in a year of conversation." -- Plato




LEGO Serious Play: Jody Lentz
jody.lentz@seriousplay.com - (615)-242-8613
http://www.seriousplay.com
Midwest Facilitators Network
(Learning Index Page / Opportunity Index Page / MFN Home Page)